Chattanooga dealership makes Honda Financial Services (HFS) part of its VIP process. The sales team at Economy Honda Superstore in Chattanooga, Tennessee, has one overriding goal. "We always try to deliver the Wow factor".
When you take a look at the dealership's processes and the results they deliver, Wow! is a natural reaction. Economy Honda typically sees a closing rate of over 40 percent from its fine-tuned appointment selling process. Those are great results for any dealer, particularly with 50-60 "VIP appointments" on a typical Saturday.
Honda Financial Services is a huge factor and support within our business model. "With every new car and every Honda Certified Used Car, we give HFS first look at financing the vehicle, no matter what." "Their management has always been 100 percent supportive of us. We appreciate being their first choice," says Brett Karstens, American Honda Finance Corporation (AHFC) dealer relations manager. "We're supportive of them because they're supportive of us." That dedication has led Economy Honda to win eight consecutive Council of Excellence (COE) awards. It's one of only five dealerships to win the honor so many times.
A Five-Star Experience

Excellence is part of the dealership's business model. "We have what we call a 'VIP customer process.' Ninety-nine percent of our customers come from the Internet. So when they contact us online or on the phone, we have an agent who sets up VIP appointments". The appointment lives up to its billing. "I'm looking to treat my customers as if they've come to a five-star  restaurant or hotel," store leadership says. "We're going to know their name before they've arrived, and give them a Wow experience."

When these customers arrive at the dealership, they find VIP parking waiting for them. They're greeted by their appointed sales associate, who introduces them to the sales manager. "We always greet them and thank them for coming in. That way, when it comes time to present numbers, they're not getting the numbers from the man behind the glass. They're getting them from someone they've met." If the customer has come to see a specific vehicle, it's thoroughly cleaned, parked, and waiting just outside the showroom door with the heat or air-conditioning running to suit the weather conditions.

Succeeding with Honda Certified
Used-car buyers get the same VIP treatment. Nearly 600 of the used vehicles sold at Economy Honda in 2009 were Honda Certified. The dealership obtains many of its used vehicles from the Vehicle Inter-Dealer Purchase System, which gives Honda dealers a way to bid competitively for end-of-term vehicles and complete the transaction without having to leave their dealerships. "We certify every car that is certifiable. As a dealer, it's crazy not to," store management says. "With a Honda Certified Used Car, the customer will be coming back to me for service and warranty work."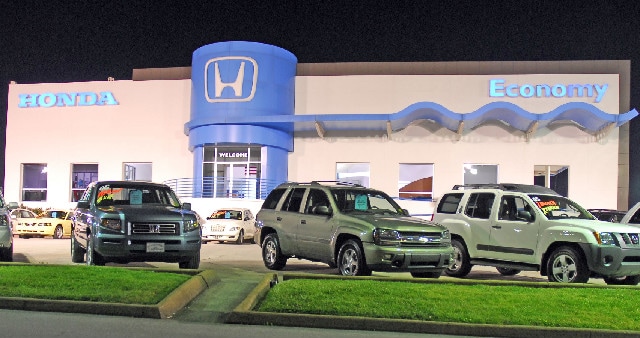 Honda Care Builds Service Loyalty
Another way to bring customers back is by offering them
Honda Care® Vehicle Service Contracts (VSCs). "We make
sure we present customers with the opportunity to buy
Honda Care and show them the Service Payment Plan (SPP)
option. We make the customer understand the benefits.
$20-$30 per month is not a lot of money to spend if you're
looking at a $1,000 repair down the road." Honda Care is
offered to both new and Honda Certified Used Car customers
and about 45 percent purchase it..
Most customers who purchase Honda Care return to the selling
dealerships for service. "We sell them the first car, but the
service department sells them their second, third, and fourth
cars," Choate says. "I get tons of compliments from our customers
about our service."
The dealership has made Honda Care a consistent part of its
customer-loyalty process. "They've always been one of my
most successful dealerships in selling Honda Care," Karstens
says. "They utilize a menu process to ensure that it's offered
every time, and they don't try to mark up the price. If you
overcharge, you will not be successful in selling the product."
A People Business
Although Economy Honda has a very detailed process playbook, leadership feels that their dedicated employees are the true secret to its success. "I give all the credit to the associates in the dealership," store leadership says. "We focus a lot on our associates' satisfaction. Customers can tell if people are unhappy and stressed, or happy and confident. They really appreciate coming back to buy another car and doing business with the same salesperson and the same manager." With the VIP treatment they experience at Economy Honda, the dealership can expect many more returns.